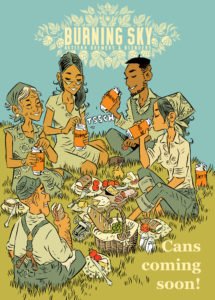 Never ones to do anything in a timely fashion, (or maybe we are just fashionably late to the party), we have made the decision to put a canning line in here at Burning Sky. The first ones will (hopefully), be rolling off the line late November.
This is part of project that has been in development for the best part of this year and should see completion early 2020.
All of our oak ageing and packaging is going to a new building (that is finally nearing completion), adjacent the brewery. Here we will be able to concentrate more on the quality and development of our spontaneous and mixed fermentation barrel and foudre aged beers.
With all the oak out of the main brewery building, we will be putting in a isobaric, counter pressure canning line from renowned producers of top end bottling and canning machines, Gai.
So as we move forward, all fresh pale ales, IPA's, seasonal saisons etc will be in 440ml cans and packaged by an exceptionally engineered canning line, whilst all our oak aged beers will carry on being bottle conditioned in 750ml Champagne bottles.
More news on our brewery development to follow…