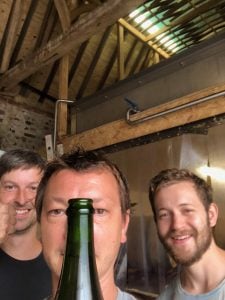 The 'other thing' we are doing to celebrate our 5th Birthday, is a small scale National release of our first ever coolship beer – inoculated over night with micro flora specific to our locale, then spontaneously fermented and barrel aged.
To say that we are happy with this beer would be an understatement. It represents the culmination of our wildest dreams and aspirations. A beer made with more than a passing nod to the great lambic producers of Brussels and Pajottonland. A beer we have dreamt of.
Brewed early 2017, we followed a turbid mash schedule with malted barley, wheat and un-malted heritage grains. An extended boil with aged hops followed, before transferring to the coolship overnight. This then went to barrels the following day, where it stayed until bottling on 30th July. This is a mono blend, i.e. not a blend of different vintages. The beer is being released with a gentle carbonation level (2 volumes of CO2), we expect this to build as the beer ages. Already the beer is showing great complexity, with a pleasing acidic, slight cider/ natural wine notes and a dry finish. As with all our special releases, it can be drunk now and/ or cellared.
The release of this beer will be 29th September 2018 – the 5th anniversary of our first ever brew – Saison Provision, a mixed fermentation beer. This seems somewhat fitting.
The following venues will have a keg of 'Coolship release No. 1' and 750ml bottles, they will all go on sale at 12noon 29th September.
Brighton: The Evening Star
Bristol: Small Bar
Tunbridge Wells: Fuggles Beer Café
London: Bottle Shop
London: Beer Merchants Tap will be pouring from 6pm as a prelude to Cantillon Zwance Day
Leeds: North Bar
Newcastle: By the River
Edinburgh: Salt Horse
Glasgow: Koelschip Yard
Additionally, we will be pouring 'Coolship release No. 1' for every session at this years Indy Man Beer Con in Manchester, where we are proudly sponsoring Room 2.
We hope that you enjoy our first foray into the world of spontaneous fermentation, it gives a hint at what is yet to come.